Top-to-bottom window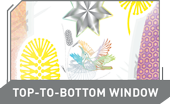 Look for multiple security features in a clear top-to-bottom window.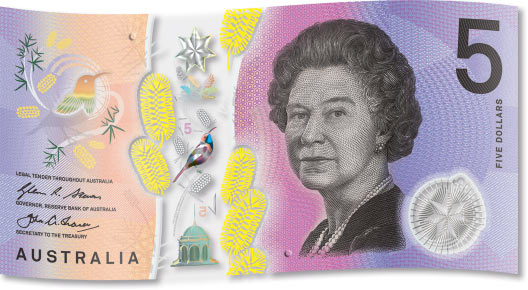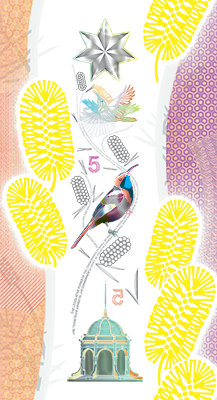 About the feature
The window is seamlessly integrated in the banknote. There are multiple security features contained within the top-to-bottom window, which is bordered by depictions of the Prickly Moses wattle (Acacia verticillata subsp. ovoidea).
Did you know?
Australia's banknotes start as a clear sheet of plastic onto which several layers of ink are applied. The windows are created by leaving sections of plastic free from ink.
The $5 banknote is the first banknote in the world to feature a window that spans from the top to the bottom of the banknote.
The layout of the elements featured in the top-to-bottom window will be consistent across each denomination in the new series of banknotes. These elements are aligned to the specific wattle, bird and portraits represented on each banknote.
For more information
9 August 2019
Next Generation of Banknotes: Circulation Date for the New $20 Banknote
22 February 2019
Next Generation $20 Banknote Design Reveal
17 October 2018
Next Generation of Banknotes: $50 Enters General Circulation
5 September 2018
Next Generation of Banknotes: Circulation Date for the New $50 Banknote
15 February 2018
Next Generation of Banknotes: $50 Design Reveal
19 September 2017
Next Generation of Banknotes: $10 Enters General Circulation
15 September 2016
Bulletin article – New Banknotes: From Concept to Circulation
Alternatively download PDF 4.4MB