Redeeming Damaged Banknotes
Before submitting a damaged banknotes claim you should familiarise yourself with the Claim Requirements.
Redeeming process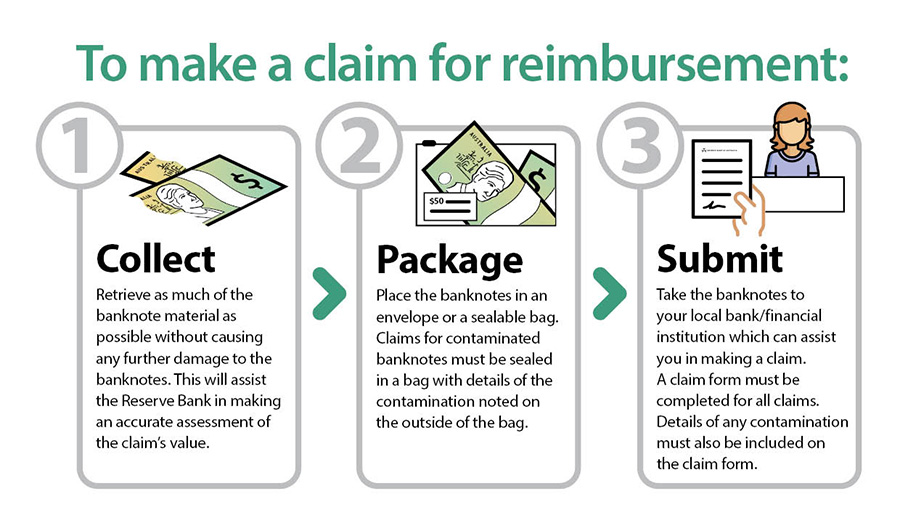 A claim form must be completed for all claims.
Claims for contaminated banknotes must be sealed in a bag and the bag clearly marked with details of the contamination.
The Reserve Bank recommends that owners of damaged banknotes submit their damaged banknotes to their bank/financial institution. These institutions are encouraged by the Reserve Bank to accept all claims. The value of an incomplete banknote may be estimated using grids provided by the Reserve Bank, however, its assessed value will be determined by the Reserve Bank and may be different from an estimate made using the grids. Badly damaged and contaminated banknotes need to be forwarded to the Reserve Bank's National Banknote Site (NBS) for assessment. Banks/financial institutions will ensure that the claim is securely delivered to the NBS on behalf of the claimant.
However, if that is not practical or no other option is available, individuals and organisations may choose to send their claim by mail to:
Operations Manager
National Banknote Site
PO Box 249
CRAIGIEBURN VIC 3064

Banks and other financial institutions should not send claims via the post and should use existing arrangements with their Cash-in-Transit (CIT) companies to forward claims to the Reserve Bank. Claims sent by mail are posted at the cost and risk of the sender.
The Reserve Bank accepts no responsibility for any claims sent by mail or for any claims until they are delivered to the NBS.
Identification requirements
The Reserve Bank verifies the identity of customers involved in claims of $1,000 or more presented to it. As a result, such claims must be accompanied by an Identification Reference Form (unless the claimant has previously completed one in connection with another claim and the details on that previous form have not changed) and the required identification documents.
Forms
Claim Form
Please read the instructions and information on the form prior to completing.
Incomplete/Badly Damaged/Contaminated Banknote Claim Form 248KB
Identification Reference Forms
Tools