$50 Banknote
The $50 polymer banknote was first issued on 4 October 1995. A new $50 will be issued in October 2018. Further information can be found on the Next Generation of Banknotes program page.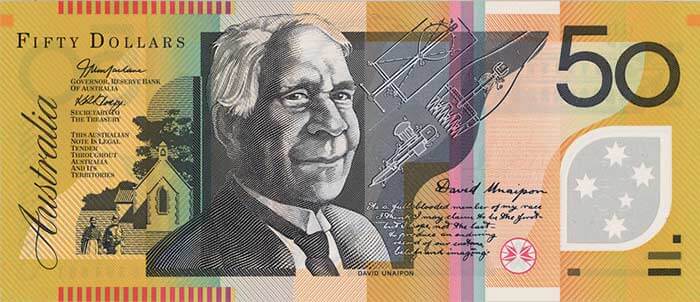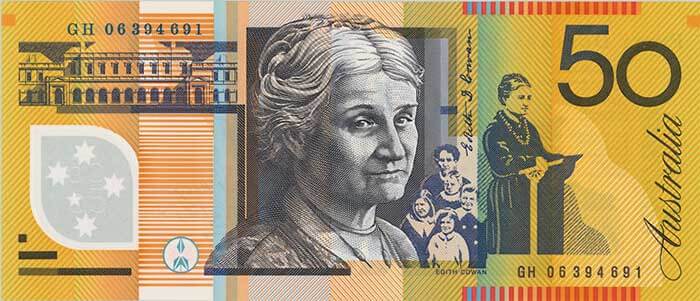 Who's who on the $50 banknote
David Unaipon, a Ngarrindjeri man, made significant contributions to science, literature and improvements in conditions for Aboriginal people. Despite having no advanced education in mathematics, Unaipon researched many engineering problems and developed a number of his own inventions. In 1909, he patented an improved hand tool for sheep shearing, depicted on the front of the banknote. Unaipon gained a reputation as 'Australia's Leonardo' for his promotion of scientific ideas. He became the first published Aboriginal writer; his earliest published works included newspaper and magazine articles and a booklet entitled Native Legends, published in 1929.
Edith Cowan is best remembered as a social worker and the first female member of an Australian parliament. Gaining insight from her husband's work as a police magistrate, Cowan was involved in many voluntary organisations throughout her life and worked towards important reforms for women, children and migrants. She helped found the Women's Service Guild, which advocated equal rights of citizenship. Cowan was also a founding member of the Children's Protection Society, which was instrumental in establishing the Children's Court, where she was one of the first women appointed to the bench. Cowan was elected to the Legislative Assembly in Western Australia in 1921.
Did you know?
David Unaipon believed that the aerodynamics of the boomerang could be applied to aircraft and predicted the development of the helicopter.
When Edith Cowan was elected to parliament in 1921, she narrowly defeated the then Attorney-General, T.P. Draper, who was responsible for introducing the changes to legislation that allowed her to run for the seat.