$10 Banknote
The $10 polymer banknote was first issued on 1 November 1993.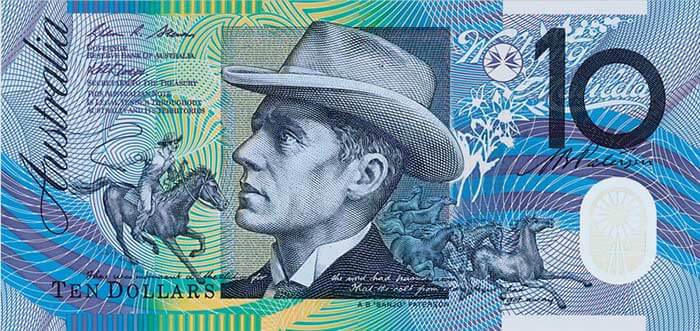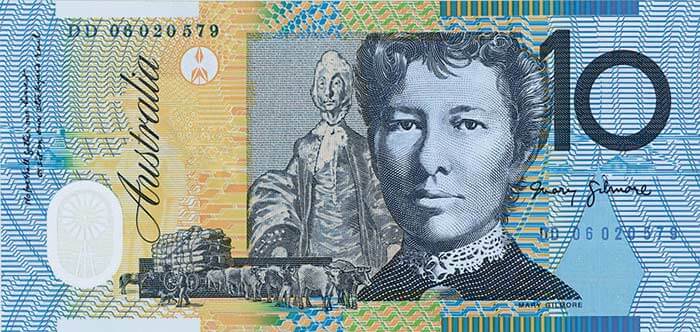 Who's who on the $10 banknote
Andrew Barton (Banjo) Paterson, a poet and ballad writer, was born in rural New South Wales. He began his career as a solicitor and achieved fame in his thirties after writing Waltzing Matilda and The Man from Snowy River, the themes of which are depicted in the designs of the banknote. In fact, his first book, The Man from Snowy River, sold out its first edition in a week and went through four editions in six months, making Paterson second only to Rudyard Kipling in popularity among living poets writing in English at that time.
Dame Mary Gilmore campaigned for a wide range of social and economic reforms, such as votes for women, old-age and invalid pensions, child endowment and improved treatment of returned servicemen, the poor and Aboriginals. Sensitive to the conventions of the day, she guarded her early teaching career by writing under pseudonyms. Gilmore also published numerous volumes of prose and poetry on a range of subjects, particularly outback and rural themes. An excerpt from her poem 'No Foe Shall Gather Our Harvest' appears on the far left-hand side of the banknote, and is based on a letter written by Dame Mary on 2 March 1942. Excerpts from the poem also feature in the microprint.
Did you know?
The $10 banknote is the only denomination in the polymer series to have something other than the value printed on it in microprint. The tiny, clearly defined print also shows the words to Banjo Paterson's The Man from Snowy River and Dame Mary Gilmore's 'No Foe Shall Gather Our Harvest'.
The 'Waltzing Matilda' logo that appears on the $10 banknote was reproduced from the cover of the sheet music for the song, first published in 1903.