$5 Banknote
The $5 polymer banknote was the first in the complete series to be issued, on 7 July 1992.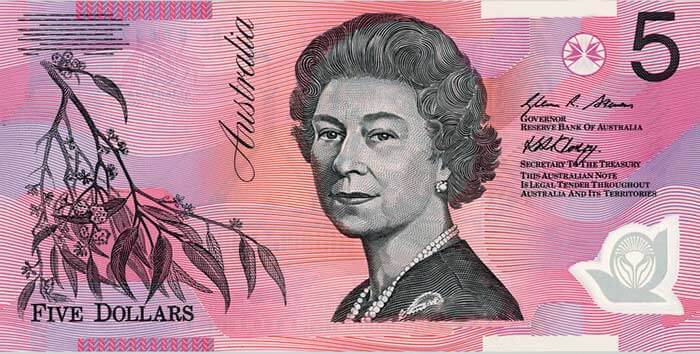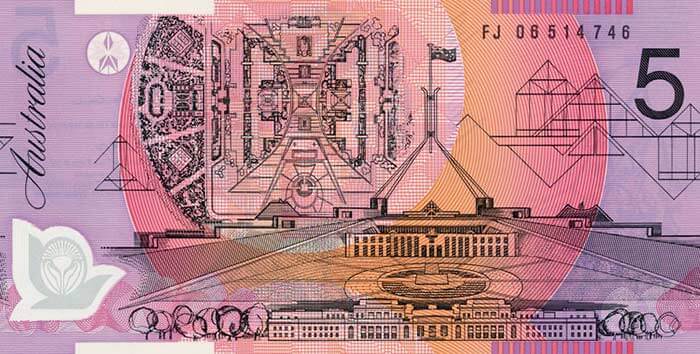 What's on the $5 banknote
A portrait of Queen Elizabeth II is shown on the front of the $5 banknote together with a sprig of eucalyptus. The portrait is drawn from photographs commissioned by the Reserve Bank in 1984. The Queen gave approval to use this portrait on an Australian banknote in 1988, and it appeared on the first $5 polymer banknote on 7 July 1992.
The back of the banknote features the Old and New Parliament Houses, which were opened in 1927 and 1988, respectively. The images are the designer's interpretation of various architectural drawings and photographs.
Above the images of the Old and New Parliament Houses is a plan of the New Parliament House. This was based on the Design Development Landscape Plan, which was provided by the Parliament House Construction Authority.
Did you know?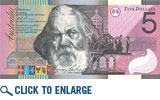 Three $5 polymer banknote designs have been issued since 1992. The first was considered too pale and some people found it difficult to distinguish from the $10 banknote so a brighter version was issued in 1995.
A commemorative $5 banknote celebrating the Centenary of Federation that featured Sir Henry Parkes and Catherine Helen Spence was issued in 2001.
The geometric patterns on the back of the $5 banknote are based on architectural features of the New Parliament House. The patterns represent the entrance to the ministerial wing, the skylight in the Members Hall and the skylight in the Main Committee Room.