Collecting Banknotes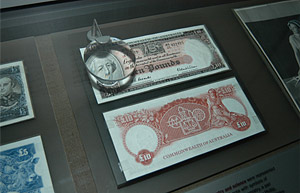 Banknotes are a popular collectable and offer a perspective on Australia's culture and history.
Many investors collect banknotes based on serial numbers or signature combinations. Australian banknotes issued since 1993 include the year of manufacture in the banknote's serial number, enabling collectors to acquire banknotes based on the year they are produced.
The following information is provided for those interested in collecting Australian banknotes.
Numismatic Banknote Arrangements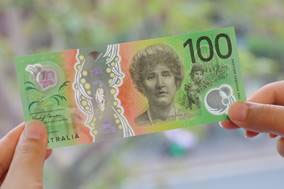 To mark the launch of the new $100, the Reserve Bank will be making two commemorative products available to the public for purchase:
a 'Next Generation of $100' commemorative folder containing one new $100 banknote of the new series at a recommended retail price (RRP) of $128.00
a 'Two Generations of $100' commemorative folder containing one uncirculated $100 banknote of the existing series and one uncirculated $100 banknote of the new series at a recommended retail price (RRP) of $252.00
From 29 October 2020, the $100 commemorative products will be available for purchase from a range of retailers:
Please direct product queries related to the $100 products to one of the listed retailers above.
If you were interested in obtaining commemorative products for other 'Next Generation' denominations, please direct retail product purchase queries to one of the listed retailers:
Arrangements for the $100 Release
The Next Generation $100 banknote will be released from 29 October 2020. Should you wish to obtain standard uncirculated banknotes (that is, brand new banknotes) these are available at face value over-the-counter at our Sydney Head Office (65 Martin Place) and Canberra branch (20-22 London Circuit) Banking Chambers. The follow special arrangements will apply following the release (until further notice) due to COVID-19:
Sydney Office
For a 2 week period immediately following the $100 banknote release, the normal limit of $500 per person per week will be temporarily increased to $10,000 per person, per week. There is no minimum value for purchase.
We cannot guarantee the banknotes will be in consecutive order, nor can we meet requests for specific serial numbers.
Photo ID may be requested.
Payment is accepted by cash and EFT. The latter is subject to the following:

EFTPOS (debit cards only) is only available for transactions up to $1,000.
Any EFT payments must be credited to the RBA's bank account. For details of this please contact the RBA (see point 6d). You must include your full name in the reference field. The RBA is not responsible for delays by your Financial Institution (e.g. some hold payments to PayIDs you haven't used before). If in doubt check with your Financial Institution or arrange to make the payment at least 24 hours prior to your visit.

The Bank will have in place physical distancing measures. Following these measures will be a condition of entry to the Chamber.
Arrangements for the collection of banknotes will need to be made in advance. To facilitate this the following conditions will apply:

Arrangements will fall between the standard operating hours of the Banking Chamber which are Monday – Thursday (9.30 am to 4.00 pm AEDT) and Friday (9.30 am to 5.00 pm AEDT).
Arrangements are made on an individual basis only (unless an adult needs to accompany a minor).
Arrangements will need to be made prior to arrival, preferably 48–72 hours prior to the time of the booking.
Arrangements should be made by either ringing 02 9551 9928 or emailing registry@rba.gov.au.
The following details must be provided:

Full Name.
Contact Number and/or email.
Total value of transaction and denominations required.
Preferred method of payment (EFT, Cash).

Upon arrival at your nominated time you will need to check in at the concierge in the foyer and state your full name. You will then be directed to the Banking Chamber or to the foyer waiting area. Due to space restrictions, any family members or friends that may accompany will not be able to wait with you in the foyer.
Canberra Office
The same arrangements for Canberra Office apply as Sydney but appointments will not be required. There will, however, be limits on the number of people permitted in the Banking Chamber foyer at any one time. The Canberra Office will be open during normal business hours from 9.30 am to 4.00 pm for Monday to Thursday and 9.30 am to 5.00 pm on Friday.
Banknote Valuations
The Reserve Bank redeems all previously issued Australian banknotes at face value.
Although they are not obliged to do so, most commercial banks will also redeem old Australian banknotes at face value. Any reluctance to accept these banknotes may simply reflect that their tellers are unfamiliar with the designs and security features of the old banknotes.
Some old banknotes may be valuable as collector items. The Reserve Bank does not provide opinions concerning the market value of old, rare or misprinted banknotes. Old banknotes may be appraised by a reputable banknote and coin dealer. The Reserve Bank does not endorse any particular organisation, but a number of Australian banknote and coin dealers are members of the Australasian Numismatic Dealers Association Inc.